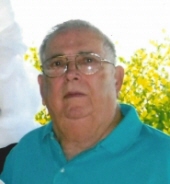 Obituary for Willard Samuel Smith
Willard S. Smith

SMITH, Willard Samuel, 87, of Gibsonton, passed away on Friday, May 9, 2014. A native of Picnic, FL and life-long resident of Gibsonton, he was an auto mechanic, a race car builder and owner, a US Navy WW II veteran and attended the First Baptist Church of Gibsonton. He is survived by his wife, Louise; sons, David and Robert Smith; daughters, Linda Lowery and Darlene Melnick; 7 grandchildren; 10 great-grandchildren and 7 great-great-grandchildren.

Funeral Information

Funeral services will be held 11:00 A.M. Tuesday, May 13, 2014, at the First Baptist Church of Gibsonton, with the family receiving friends one hour prior to services. Interment will follow at Hurrah Cemetery.