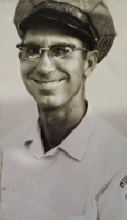 Obituary for Luther Jackson Sands
Luther Jackson Sands

SANDS, Luther Jackson, 89, of Bushnell, FL, formerly of Brandon, passed away on Wednesday, May 13, 2015. A native of Tampa, he had resided in Bushnell since 1978. He was a former member of First Baptist Church of Brandon, Brandon Lion's Club, Brandon Masonic Lodge #114, F.A.M. and was Brandon's first Letter Carrier. He is survived by his wife, Irene; sons, George, Robert and Ron Sands; daughters, Sharon Sands Bitetto and Virginia Sands; sisters, Faye Fritzke and Jean Buchanan; 4 grandchildren and 6 great-grandchildren.

Funeral Information

Funeral services will be held 12:00 P.M. Monday, May 18, 2015, at Southern Funeral Care, 10510 Riverview Drive, Riverview, with the family receiving friends one hour prior to services. Interment will follow at Hillsboro Memorial Gardens, Brandon.