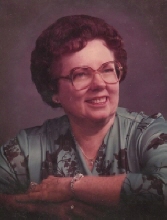 Obituary for Alice Faye Tittsworth
Alice Faye Safford Tittsworth

Alice Faye (Safford) Tittsworth was born in Lakeland, Florida on September 30, 1925. She grew up in Lakeland and graduated from Lakeland High School. Her Father was a lawyer and state representative in Tallahassee. Her Mother passed away when Alice was 14 years old. Alice used to tell us the story that her Dad had to talk to her about beating up the neighborhood boys when they would pick on Drane, her brother. She told us about sitting with her Mother as she made quilts. We still have one of those quilts. After graduating from high school, Alice went to legal secretary school and enjoyed dancing and dating the enlisted guys. She got a job as a legal secretary to R. G. Tittsworth. When their youngest son returned from the war, R. G. and his wife, Marguerite, encouraged Clayton to date Alice, since she was such a sweet, smart young lady. Alice and Clayton got married February 2, 1946. When Clayton went to law school, Alice supported the family by being a legal secretary. They lived in a tiny trailer that had a kitchen, small living room and small bedroom. Alice laughed about using a common bathroom not too far from their little home. After graduation, Clayton asked Alice if she would like to go to California or have a baby. About 10 months later, their first child, Michael, was born at Tampa General. Four years later their daughter, Elaine was born. Alice's life was her children and grandchildren. She would cry when her children would leave for college or go home. She would go to the grocery store for hours to purge empty house syndrome. She was the consummate Mother. Some words that define consummate are accomplished, expert, excellent, ideal, flawless and supreme. If you knew Alice, you know those words define her as a homemaker, wife, mother, grandmother and great grandmother. Alice and family went to Holy Innocents Episcopal Church in Valrico. She enjoyed church and church activities. Before we entered the world of being politically correct, Alice was a member of FEW - Fat Episcopal Women, which was a dieting group. Along with being a homemaker, mother and wife, Alice served her community. She was a member of the Women's Service League in Brandon. Alice loved to laugh and have fun. She was the queen of corny jokes. On one of her many trips to Atlanta to see Michael, everyone went to a Chinese restaurant for flaming volcanoes for 2. After Alice and Clayton polished off theirs, Alice stood on her head and sang St. Louis woman. (Her Mother was born in St. Louis). Alice always enjoyed a good party. She was a founding member of the Fort Nighters, which was a dinner get together for 12 couples. Bridge was her game, although she loved any type of game whether it was cards or bingo. At the end of her life, Alice's faith was strong and she decided it was time to go home. Early Sunday, April 2, 2016, Alice joined her husband, mother, father and brother in heaven. We were lucky to have her with us as long as we did. We will all miss our sweet, wonderful Alice Faye. We celebrate Alice's life and love. She was a devoted wife, mother, grandmother and great grandmother. Alice was preceded in death by her husband of 66 years, Clayton. She is survived by her son and wife, Michael and Louise Tittsworth, Peachtree Corners, GA; daughter and husband, Elaine and Evan Love, Riverview, FL; grandson and his family, Kyle, Miranda, Kira, Isabella, and Isle Love, Brandon, FL; granddaughter and her family, Pauline, Loic and Andrew Autret, Lake Worth, FL.

Funeral Information

There will be a Celebration of Life service for both Clayton and Alice at 5:30 P.M. Tuesday, April 19, 2016, at Southern Funeral Care, 10510 Riverview Dr., Riverview, with the family receiving friends one hour prior to services.