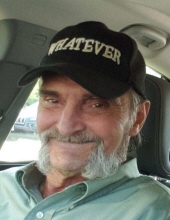 Obituary for Philip Darrell Winge
Philip Darrell Winge passed away at his home in Plant City, Florida, surrounded by loved ones on May 31, 2022. Phil fought a long, tough battle with cancer and is finally at rest. He will be forever loved and forever remembered.

Phil was predeceased by his mother, Pauline Winge, father, Bernice Ray Winge, step mother, Nettie Winge, and brother, Paul Winge, Sr.

He is survived by his wife, Tracy Bellofatto-Winge, 3 daughters, Heather McCoy (Russell Durfee), Hollie (Thomas) McElveen, Tiffany (Parker) Tillman, 8 grandsons - Zack, Jordan, Bobby, Jeff, Jackson, Justin, Nick, Ben, 2 sisters Barbara (Roy) Jones, Bonnie Blackmon, a host of nieces and nephews, former spouse Jeannette (Max) Elrod, and 2 dogs (Archie and Taz).

Phil was born and raised in Charleston, SC where he graduated from Chicora High School. He excelled in his trade, welding, where he honed his skills to become an expert and highly sought after marine welder. Throughout his full life, he loved surfing, fishing, and playing softball! He loved the Lord and his family tremendously. He will be sorely missed by his family, AA friends, and softball teammates.

A memorial service is being planned and will be held in the Charleston area.
Read More
Events