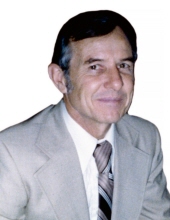 Obituary for George Robert Greenwell, MD
George Robert Greenwell, MD, FACSM (a.k.a. Dr G, Doc, Dr Bob, Medico) passed away on January 18, 2022.
He was a gifted, kind physician who served the Brandon community beginning in 1956. Through his dedication to hard work, his extensive scientific research, and his forward thinking, he profoundly and positively influenced many lives, his profession, and his community. Bob Greenwell was born in Kansas City, MO, the 2nd child of 11 on July 14, 1926. He served in the Air Force stationed in Okinawa WWII, Dr. G. earned a B.A. in Physics with minors in Mathematics, Chemistry & Biology, and earning his Medical Degree from U of Louisville, KY. On Nov 26, 1953, he married Shirley, his wife of 68 years. He and Shirley moved to Brandon in 1956. Shortly after opening his office on Parsons Ave. where he served as physician and surgeon, his practice became the community's first emergency room urgent care facility. His practice was equipped with the only lab and x-ray machine for miles around. He was a true country doctor, available 24/7 handling general illness, emergency care and delivering babies. He served as team physician for Brandon High, and had served on staff at the hospital in Plant City. Throughout his medical career, he was also a creative entrepreneur, constantly at work within the community to bring new services and businesses to Brandon. 1961 - Nativity Catholic School opens - He and friend Bob Vaughn had done the legwork required by the Catholic Church for Brandon to have a school. 1963 - He & Shirley opened Brandon Swim & Tennis Club, believing that good health is the result of an active lifestyle, provide a place for family activities, and to provide a safe place for community children to grow and develop. 1966 -AAU Men's National Swimming and Diving Championships held at BSTC, covered by national media and televised nationwide on NBC's Wide World of Sports. It was a first-class event that put Brandon on the national map. He was first to instigate and supply the aquatic resources for Hillsborough County Schools as an extension PE and Sheriff's department's Aquatic education needs. And did so at no charge. Dr G voted Greater Brandon Man of the Year, recognized for bringing such widespread praise and recognition to Brandon by winning the bid to host the meet and organizing it. 1969- founded Diamond Hill Golf Course. 1977 - Brandon Community Hospital opens- spearheaded by Paul Funderburk and Dr. Greenwell, and included Wilbur Futch, Phillip Mook, George Parker, Dick Stowers, and Albert Ward after 10 years of persistent efforts to bring a hospital to the Brandon community. In 1973, Doc began traveling extensively overseas, visiting world renowned scientists and rehabilitation centers to observe and expand his knowledge on the science of rehabilitative effects of exercise and oxygen therapy on cardiac and stroke patients. Out of this research, he designed the first rehabilitation program that scientifically identified each individual patient's optimum intensity of aerobic exercise for producing the maximum benefit at the least risk. Internationally reputed for his constant scientific research, he became an influencer in his field of Sports Medicine. 1972 - He was an invited member of the committee appointed by the American College of Sports Medicine for the development of the "Guidelines for Graded Exercise Testing and Exercise Prescription"; the first published book on exercise prescriptions based on science, now in its 11th Edition. 1976 - Elected "Fellow" by the American College of Sports Medicine. As Chairman of AAU's National Committee of Sports Medicine, he was the first and only medical doctor to be invited behind the Iron Curtain to investigate athletic training techniques of the East German and Russian sports programs. In 1976, he opened the first cardiac rehabilitation center in the southeastern US, located on the grounds of BSTC. It was aptly named The L.I.F.E. Clinic - Living Increased by Fitness and Exercise. For the next 30 years, Dr Greenwell successfully treated and rehabilitated numerous cardiac and stroke patients from as far away as South Africa and Japan at the L.I.F.E. Clinic. He was also able to help patients with various diseases and conditions that arise from severe circulatory issues. During his time at the L.I.F.E. Clinic, he wrote numerous research papers. He presented his Sports training research findings to the 1992 Olympic Science Conference. Medical research was presented in both National and international arena's, conferences and institutions in the United States, Japan, Finland, South Africa, and Spain. Despite his many accomplishments and successes, Dr Bob Greenwell was a man of true humility. He lived in service to God, his church, his family, and his community. No doubt, he is singing now at the top of his lungs, praising God for a life that was so full of love and so well-lived. He is survived by his wife, Shirley; sons, Michael, Patrick (Debbie) and Joseph Greenwell; daughters, Mary Beth (Richard) Sultenfuss, Katherine (Mike) Stafford and Margaret (Michael) Greenwell Priola; brothers, Joseph Greenwell, Dr. Dick Greenwell and Tom Greenwell; sister, Margaret Devine; grandchildren, Logan & Tyler, Amanda, Matthew, Haley & Jamie and great-grandchildren, Koba, Neko, Holden, Lane, J.C. and Virginia. In his final years, he frequented Mission BBQ to sing the National Anthem. In lieu of flowers, visit Mission BBQ to sing the National Anthem in his honor. A Funeral Mass will be celebrated 12:00 P.M. Friday, January 28, 2022, at Nativity Catholic Church. The family will visit with friends one hour prior to the Mass but would encourage everyone to come to their residence, 509 Seffner-Valrico Rd., after the Mass, around 2:00 P.M., for a Celebration of Life Gathering to remember Dr. Greenwell and to tell many stories. Interment will be private.
Read More
Previous Events
Visitation
Nativity Catholic Church
705 East Brandon Blvd.
Brandon, FL 33511
Funeral Mass
Nativity Catholic Church
705 East Brandon Blvd.
Brandon, FL 33511
Celebration Of Life Gathering
Greenwell Residence
509 Seffner-Valrico Road
Valrico, FL 33594
Cemetery Details
Location
Hillsboro Memorial Gardens
2323 West Brandon Blvd.
Brandon, FL 33511