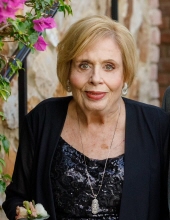 Obituary for Dorothy P. Judson
Dorothy Parsons Judson, 74, of Lithia, passed away peacefully on November 27, 2021. She was born in Jacksonville, Florida to Florence and A.C. Parsons. With wonderful second set of parents Frisbee and Walter Webber, Dorothy felt blessed to have so many siblings: Pam (Bubba) Eminsor, Kathy (Steve) Gardner, Patricia (Jim) McIlwain, Mike (Tara) Parsons, Olivia (Mike) Riffe, and Willa (Gwen) White.
As a graduate of Fletcher High School, Dorothy attended the University of Florida School of Architecture and Fine Arts. In Gainesville, she met her husband, W. Forrest Judson, with whom she was married to for 47 years until his death in 2017. After earning her Bachelor of Design degree, she worked as a graphics designer in Atlanta where one of her national advertising campaigns won acclaim for its creativity and original content.
As the embodiment of a true modern day Renaissance Woman, Dorothy brought her artistic creativity into the realm of medicine. She was commissioned to attend surgeries for medical illustrations that were published in journals and textbooks. She was also consulted for interior design efforts for medical and dental offices in Kentucky and Florida.
After living throughout the southern United States and Japan, she found a home in the Tampa area where she became the foundation for establishing Forrest's practice and raising their only son, Chris (Joy) Judson. Locally in the Tampa Bay area, Dorothy was involved in the Florida Orchestra Guild, American Cancer Society, Center Place of Brandon, and the Hillsborough County Medical Auxiliary.
Dorothy was a lifelong learner and exemplified a true appreciation for art, history, and science. Undoubtedly, her greatest love was her time spent with her grandchildren, Jake and Avery Judson. She had the uncanny ability to bond with and attract almost any animal earning her the title "Dr. Doolittle". As she has left our Earth to be with the Lord, Dorothy will forever be missed for her overwhelming generosity, kindness, wit, and beautiful sense of humor that she showed us nearly every day.

I love you and am forever blessed to know you as Mom, CJ.

A Memorial Service & Celebration of Life will be held at The Barn at Winthrop Special Events Hall in Riverview on December 9, 2021 at 6:30 pm. In lieu of flowers, please make donations to the Brandon Outreach Clinic.
Read More
Previous Events
Celebration of Life Service
The Barn at Winthrop Special Events Hall
11349 Bloomingdale Avenue
Riverview, FL 33578
Memorial Contribution