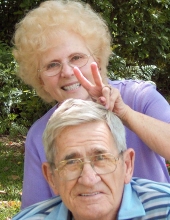 Obituary for William Phillip Ehrhart
William Phillip Ehrhart, 89, passed into the arms of his Lord Jesus on Friday, June 26, 2020. Born 1930 in New Boston, OH to Daniel and Anna Hockenhiemer Ehrhart, the last of thirteen children. He graduated from Glenwood High School in 1949 and entered the Air Force the same year. William faithfully served his country as a hydraulic mechanic for 20 years, serving in England, Greece, Vietnam, Columbia, Thailand and various bases in the US, before retiring in 1969 as a Tech Sergeant. Following his military service, he worked at Crown Zellerbach before moving to Sims Crane Service where he worked until retiring at the age of 71. In 1951, Bill and his friend Lewis Griner went to the Sweetheart Roller Skating Rink in the Six Mile Creek area. Bill went up to a pretty girl named Betty and asked her to skate . . . it was love at first sight. Billie, Bill, Daddy, Pop Pop or Pops leaves behind his loving wife of 68 years, Betty Louise Cornett Ehrhart; daughters, Cynthia (David) Toward, Sandra (Steve) Hardy and Kathy (Scott) Kantrowitz; grandchildren, Sherry Toward and Zackary Kantrowitz and great-grandchildren, Dylan and Nathan Toward. Bill was a longtime member of First Baptist Church of Brandon and served on the parking committee for many years, greeting everyone who pulled into the lot with a smile. Our dad was known for his quick humor, gentle nature, devotion to his family, and his love of science fiction, all things Star Trek, pulp westerns, Sudoku puzzles and anything chocolate. He loved watching sports, particularly his Ohio State Buckeyes and the Florida Gators which truly annoyed his youngest daughter who graduated from Florida State University. His mechanical skills branched out from aircraft and cranes to making a '65 Barracuda, '69 Dodge Dart, and even a lawn mower fly. He was a man of few words and great intellect. If he spoke, you knew he had something important to say. He spent his retirement in the company of his doting wife and they happily bickered back and forth with each other when they weren't spending time with their beloved Zackary, who brought so much joy to their lives. Upon departure from this earth, his wishes were simple - cremation, cigar box, no service and "sprinkle my ashes in the backyard". Sorry, Daddy, but you're only getting 2 out of 4. A nice engraved Rosewood box, so we can keep you close for a little while longer. There will be no service following his cremation, but if you'd like, please make a donation to the Special Olympics of Florida.
Read More
Events
Memorial Contribution
Special Olympics Florida, Inc.
1915 Don Wickham Drive
Clermont, FL 34711-1915