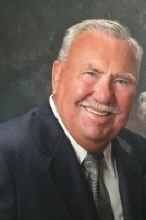 Obituary for William Alvin (Bill) Hutchcraft
William Alvin "Bill" Hutchcraft

HUTCHCRAFT, William Alvin (Bill) 87, of Brandon, Fla went to be with the Lord on Monday, March 7, 2016. Born in Covington, KY, he lived most of his life in Florida. He was a veteran of the U.S. Air Force, a loving husband, father, grandfather and great-grandfather. Bill is preceded in death by his wife, Lois Jean Hutchcraft, his son, Bruce William Hutchcraft and daughter, Sharon Lois Armstrong. He is survived by his son and daughter-in-law, William W. (Billy) and Tricia Hutchcraft. He was the grandfather of five, granddaughter, Cheryl Lynn Edwards (Joe), grandson, Eric Michael Armstrong (Jessica), granddaughter, Elizabeth Ann Delanoy (Nate), granddaughters, Jessica Ann Irvin (Kale), and Lindsay Claire Hutchcraft. Bill also had seven great-grandchildren, Benjamin Joseph Edwards, Megan Victoria Edwards, Hadley Sharon Delanoy, Annaleigh Claire Irvin, Maximus Wills Irvin, Carson William Delanoy and Camille Nora Delanoy. Bill was a self-made entrepreneur who embodied the American Dream. A successful businessman, he built and developed residential and commercial properties in Florida, Georgia and North Carolina. He was a man of faith who loved his family and enjoyed traveling.

Funeral Information

Funeral services will be held 2:00 P.M. Thursday, March 10, 2016, at New Hope United Methodist Church, 120 N. Knights Avenue, Brandon, with the family receiving friends one hour prior to services. Interment will follow at New Hope Cemetery, Brandon, FL.
Read More