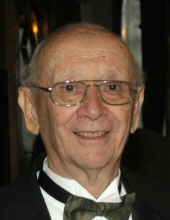 Obituary for Walter Lewis Snook
Walter L. Snook, 99, of Tampa, passed away on February 3, 2021. Born in Paintersville PA, he had resided in the Tampa Bay area since 1953. He is survived by a daughter, Linda Keatts and son-in-law, Glenn, of Westminster, MD, a son, Matthew Snook and daughter-in-law, Charlie, of Tampa, grandsons Daniel Snook (Atlanta) and Christopher Snook (Denver), and stepdaughter, Debi Haager and husband, Jimmy, of Brandon. He was predeceased by his first wife, Mildred D. Snook, second wife, Chris Scogin Snook, brothers Clair, Arthur, and Fred Snook, sister Frances Lundvall, and their spouses. He was a naval veteran of WWII, graduated from the U. S. Navy V-12 program, went to Midshipmen's School at Fort Schuyler NY and received his commission in the Navy at the Cathedral of St. John the Divine in New York City. After finishing service in the Pacific, he graduated from Yale University in 1948 along with to-be President George H. W. Bush, among others. Before moving to Florida, he worked for Hahne and Co. department store in Newark NJ, as an internal auditor and buyer. On Clearwater Beach, he operated and co-owned the Palmtopper Apartment Motel, following which he began employment at Reeves Southeastern Corp. in Tampa. At his retirement in 1989, he was Vice Chairman of the Board and Executive Vice President, with total service of over 33 years. He was a Deacon, Treasurer, Trustee, and charter member of Westminster Presbyterian Church, Brandon, and was President, Director, Treasurer and longest standing member of the Optimist Club of Tampa, putting in many hours working at their Youth Camp and annual horse show. Walter epitomized what it meant to be an "optimist." He also volunteered for the American Cancer Society and Meals on Wheels, driving food deliveries into his 90s. He was formerly Director and Treasurer of the Commerce Club, member of the Tampa Club, a director of Reeves Steel, Inc. and Chairman of the Advisory Board, Exchange National Bank, Brandon. Walter was an avid traveler, visiting many countries on six continents, hiking many trails, touring many museums, and tasting many cultures, spreading cheer and charm along the way – he never met a stranger. He documented his many trips, writing articles for the Brandon News describing numerous of them, and presenting to the community on many of his favorite trips when he resided at the Hawthorne Village retirement community in Brandon. He was friendly to a fault, always willing to share a smile and a chat with both stranger and long-time friends. He was committed to family and friends, loved the theater, classical music, opera, rack of lamb, and a good book. He took up skiing at age 70, and golf at age 73, participating in both until his late 80s. He was an adventurer, interested in everything and everyone. He had few short conversations, and seldom did he not laugh and smile with whomever participated. Walter was a loving husband to two wonderful wives, painfully enduring both of their struggles with cancer and resultant deaths. He was a proud father and grandfather, and always made sure his children and grandchildren knew of their value to him and his happiness over their achievements, both large and small. He was generous with time, resources, and sympathy, as need dictated. Those who knew him were enriched by it. A memorial service will be held at Westminster Presbyterian Church, Lumsden Road, Brandon, later in 2021. Contributions in memory of Walter may be made to the American Cancer Society, Greater Brandon Meals on Wheels, or Westminster Presbyterian Church, Brandon.
Read More
Events
Event Information
A Celebration of Life Service will be held at a later date.
Memorial Contribution