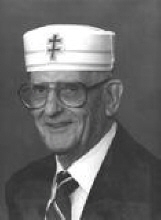 Obituary for Walter Britton Ellis Jr.
Walter Britton Ellis, Jr.

ELLIS, Jr., Walter Britton, 90, St. Petersburg, was born July 5, 1918 in Chaffee, MO, the son of Walter Britton Ellis, Sr. and Bertha Agnes Marie Johnson Ellis, passed away on Friday, April 3, 2009 at the Masonic Home of Florida, St. Petersburg. He was preceded in death by his first wife, Hellen Loraine Kurtz Ellis, his second wife and soul mate, Helen Elisabeth Reid Ellis, brothers, William Burl Ellis, Burnett Earl Ellis, Robert Leonard Ellis, Richard Arthur Ellis and Jim Jack Ellis, and his son, Francis Edward Ellis. He is survived by his sister, Mary Ellis Buehrig, Clearwater; brother, Gerald Walker Ellis, Trenton, IL; daughters, Phyllis Lorraine Ellis Francis, Alvarado, TX and Sharon Lucille Ellis, Austin, TX; son, Richard Bruce Ellis, Celebration, FL; step-daughter, Joan Offermann Ramos, Austin, TX; step-son, Claus Warren Offermann, Munich, Germany; daughter-in-law, Carolyn Ellis, Merritt Island, FL; 11 grandchildren; 7 great-grandchildren; 1 great-great-granddaughter and many nieces and nephews. He was a veteran of the US Navy in WW II, having served aboard the USS Cossatot under the command of Cmdr. P.G. Beck, USNR, serving as a radioman aboard the tanker, which was a refueling ship for the American Fleet during the war. The majority of his life was spent as a Master Electroplater. After retirement, he and Helen sold hunting articles at gun shows in the area for many years. He was an honorable man who took all vows and oaths seriously, a loyal friend, loving father with a great sense of irony and a wry sense of humor. He thoroughly enjoyed Westerns, History and Sci-Fi books and movies. He took up the hobbies of crossword puzzling and cryptography which were an effective means to keep his mind perfectly sharp to the very end. He was initiated in the Masonic Order in 1974 and raised to the sublime degree of Master Mason, in DeSoto Lodge #105, F. A.M., Riverview, in November, 1974. Consecrated Master of the Royal Secret and received his 32nd Degree in May 1975, becoming Worshipful Master of DeSoto Lodge in 1980. Invested Knight Commander Court of Honor receiving his 32nd Degree KCCH in October 1983. Became Venerable Master Lodge of Perfection in 1987, Wardrobe Chairman and Captain of Scared Robes for the Scottish Rite from 1984 to 1997. He received his proficiency in Blue Lodge in 1994, passing the Master Mason Exams in 1997, at which time he was honored with the 33rd Degree. He received his 25 year Service Award in 1999 and was honored with the appointment of Chaplain Emeritus of Sun City Shrine Club and High 12 Club, December 2008. He was also a member of the Ancient and Accepted Scottish Rite of Freemasonry, Egypt Temple Shrine, Sun City Shrine Club, High 12, Order of the Eastern Star, DeSoto Ch. #201, Riverview. He was a devoted volunteer to service at the Shriners Children's Hospital and the Masonic Home of Florida from 1974 to 1997. He will be sorely missed by his family, extended family, many brother Masons and special friends.

Funeral Information

Masonic funeral services will be conducted 1:00 P.M. Monday, April 6, 2009, at Southern Funeral Care, 10510 Riverview Dr., Riverview, by DeSoto Lodge #105, F.A.M., Riverview. Inurnment will be at Florida National Cemetery, Bushnell, FL.