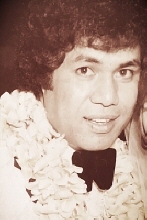 Obituary for TuiTamaha Hala'ufia
TuiTamaha Hala'ufia

TuiTamaha Hala'ufia, (also known as Tuifua, Tui) age 68, passed away at home in Riverview, Florida in the arms of his loving wife Anna Halaufia after a battle with cancer. They recently celebrated their 41st wedding anniversary. TuiTamaha was born on August 14, 1947 in the Kingdom of Tonga on the island of Vava'u. He is the son of Aivini and Kauiniata Halaufia and the oldest of 8 children. His father Aivini was one of the first Tongans to receive a scholarship to further his education in the United States. In January of 1958, Aivini was able to save and send for his family to come to America. They ended up settling in Logan, Utah and Tui graduated from Logan High School. Following his graduation, he served a 2 year LDS mission in his homeland of Tonga. Upon returning from his mission he attended Utah State University on a football scholarship. TuiTamaha's legacy of greatness continued from being a Utah State College football star to getting a chance to play for the Chicago Bears. He later moved to New York to pursue a successful boxing career. He had fights at Madison Square Garden and was trained by the famed Cus D'mato. Tui was also featured in a 1985 edition of Sports Illustrated Magazine sparring with Mike Tyson. While in New York, he met his real match Anna Skalij, the love of his life. On April 5th, 1975, he married his Ukrainian love in Albany. They were later sealed for eternity in the Washington D.C. Temple on January 5th, 1979. Shortly after, their family was growing and moved to a farm in upstate New York. Together they had eight children. In 1991, he and his family moved from New York to Florida where some of his kids currently reside. TuiTamaha was an entrepreneur and had businesses in many fields which included, but was not limited to: owning a boxing gym, security company, moving company, to running an ostrich farm. He was a true renaissance man. Tui was fearless, passionate, hardworking, adventurous, and dedicated to the things he loved most which were his family and the gospel. He lived as an inspiring example for his 8 children and 12 grandchildren who will carry on his legacy. Always a believer in taking charge of your life he could often be heard sharing his message that "Procrastination is the assassination of motivation". Ofa Lahi Atu Dad. TuiTamaha is survived by his loving wife Anna Skalij Halaufia; and his eight children, Tu'i Tupoutoa Hala'ufia (Nika), Orysia Fox (Jerry), Tania Vake (Sione), Angela White (Tony), Lesha Martinez (Naphtali), Nadia Hala'ufia, Tamaha Hala'ufia, Ivan Hala'ufia. TuiTamaha is also survived by his mother Kauiniata Halaufia and seven siblings: Viliami Halaufia(Patty), Emma Otutaha (Kaleti), Tupou Thompson (Timmie), Seluvia McComber (Steve), Marcia Johnson (Shaun), Vonda Kay Halaufia, Natalie Heather. Also survived by 12 grandchildren and 19 nieces and nephews. He was preceded in death by his father Aivini Halaufia (Pa'angakatoa) and niece Salote F. Otutaha.

Funeral Information

Friends and family are welcomed to attend a viewing from 9:00 A.M. to 12:00 P.M. Saturday, April 23, 2016, at Apollo Beach Ward in Florida, The Church of Jesus Christ of Latter Day Saints (5208 12st NE Apollo Beach, FL 33573) followed by a program at 12:30 P.M. Immediately following the program, burial will be at Serenity Meadows Memorial Park, 6919 Providence Rd., Riverview, Florida.