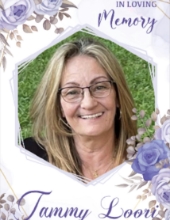 Obituary for Tammy Susan Loori
Tammy Susan Loori, gained her angel wings just nine days after her 61st birthday on March 25th, 2023, surrounded by family in Lithia, Florida, while bravely battling cancer. Tammy's life would seem too short to many, but those of us who were blessed to be touched by her understand that her existence and the imprint she left on our hearts exceed the quantity of time that she stayed here.
A 'wild child' growing up in the 70's, she always said how everything changed for her when she had her children. Having a loving family was her sole focus, and she worried over and took care of them until the end, sometimes to the exclusion of her own needs. She valued character, honesty, and authenticity and no one had to guess where they stood with her on any. She was neutral when trying to understand and steady in her advice, she always saw herself as a peacemaker. She was "straight up" and happy to tell you. She loved hard and always was there to listen and provide insightful perspectives.
She believed in signs that nature displays for the eyes, open and willing to see them. Was unselfishly a giver – no matter what she had left after and expected to receive nothing in return. Her faith never wavered, and her favorite verse of the Bible was her birth date, John 3:16, and she prided herself on living a simple life rooted in quality experiences with family.
She was born to Joseph Loori and Gail Redman in the borough of Keansburg in Monmouth County, New Jersey in 1962. She is survived by her husband Geoff; son, Steven and wife Kelli; daughter, Amber and husband, Roger; four grandchildren, Jorden, favorite granddaughter, Jocelyn, Luca, and Liam; three stepchildren, Geoffrey, Cody, and Tara with nine step-grandchildren and one deceased grandchild; three brothers, Danny, Joe, and Tony; four sisters, Jodie, Tina, Robyn, and Dawn; and loved by many extended family members and friends.
A celebration of her life will be held on Saturday, April 1st, 2023, from 12 PM-3 PM at The Foss Ranch. 2712 Rogers Ranch Road, Lithia, FL, 33547.
Read More