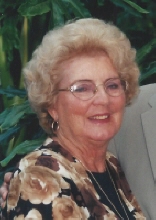 Obituary for Sloma (Salonna) Hix Blount
Sloma Hix Blount

BLOUNT, Sloma (Salonna) Hix, 78, of Brandon, passed away on Monday, September 29, 2014. A native of Rosalie, AL, she had resided here most of her lifetime, was the first woman barber in Brandon and a member of Plant City Church of God. Preceded in death by her husband, Jim Blount and son, Cecil Moses, she is survived by her daughter, Myra Moses Mitchell; sisters, Imogene Creamer and Judy Locker; 2 grandchildren; 2 great-granddaughters and 2 nieces.

Funeral Information

Funeral services will be held 11:00 A.M. Thursday, October 2, 2014, at The Palms Community Church, 207 New Hope Road, Brandon, with the family receiving friends from 9:30 A.M. until service time.