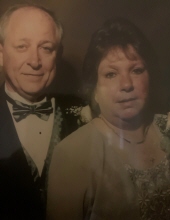 Obituary for Sherry Frances Baughn
Sherry Baughn as born to Arthur and Rosella Linnenbrink on the 30th of May 1955 in Washington, MO. Sherry married the true love of her life, Riley Baughn on the 21st of July 1972. Riley joined the Navy and off they went to venture the world. Together they had 4 children, Matthew Baughn born in Guam, Michelle Justice in Maryland (husband Jack), Melissa Korbi in Mississippi (husband Seif), and Jennifer Friedrichsen in Jefferson City, MO (husband Tony). They went on to be blessed with 11 grandchildren over their 44 years of marriage. Sherry and Riley moved back to Missouri in 1989 to be closer to her 7 brothers and sisters and parents. Sherry's father Arthur passed in 1989, and her mother Rose passed July 2020 at 92 years young. Sadly, Riley passed-away in 2015 and she lost her only son Matthew in 2018. Both were devastating losses for Sherry. Sherry is survived by her 3 daughters and 7 brothers and sisters; John, Arthur, Richard, and David Linnenbrink; sisters, Marcella Robinson, Sandra Nibblelink, and Anita Hotsenpiller. Sherry loved Riley and her kids, she worked hard and fully believed that in life we do not lie, steal, or cheat, she just couldn't have that on her conscience and she instilled those values into her children. Sherry would give her last dollar if someone asked for it or just looked like they needed it more. Sherry loved the casino; it was one of her favorite pastimes. Sherry loved Halloween, counting the kids that would come by and doting over their costumes, but her favorite holiday was Christmas, she always worried about getting the right gifts for everyone. Sherry would never let on if they had fallen on hard times, she just had a magical loving nature about her and worked very hard to keep all the pieces moving in the right direction. Sherry will be missed so much; she was the true matriarch of her family.

Celebration of Life:
When: Saturday September 18th, 2021 from 1:30pm - 4pm
Where: Knights of Columbus 1822 Tanner Bridge Rd, Jefferson City, MO 65101 - (573) 636-3424.
A short service will take place from 1:30pm -2pm by Michelle, Melissa, and Jennifer. Lunch will be served buffet style @ 2pm.
All are welcome to come and share a story or memory of Sherry.
Read More
Previous Events
Celebration of Life Service
Knights of Columbus, Jefferson City, MO
1822 Tanner Bridge Road
Jefferson City, MO 65101
Reception
Knights of Columbus, Jefferson City, MO
1822 Tanner Bridge Road
Jefferson City, MO 65101
Memorial Contribution