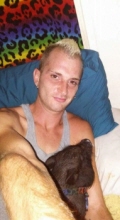 Obituary for Shane Earl Donovan Damron
Shane Earl Donovan Damron

Born in Flint, Michigan on February 18, 1988 and currently residing in Gibsonton, Florida, Shane passed away on Thursday, March 30th, 2017. He had just celebrated his 29th birthday, and moved into his dream home with his long time love Stephen Lineberger. After 10 years together, Shane was 1 year into his new marriage when he passed. He is survived by the love of his life Stephen Lineberger; his father and mother, Curt and Rita Bailey of Tampa, FL; his sister and brother-in-law, Ayla and Rob Mauger, and nephew and niece, Adam and Ashleen of Gibsonton, FL; and his brother Jonah Von and family. Spread your wings and fly for you are truly free now.

Funeral Information

A Celebration of Life is being held at Southern Funeral Care, 10510 Riverview Drive, Riverview, FL at 2:00 PM on Saturday the 8th. The family will be receiving friends an hour before services start. A reception will follow.