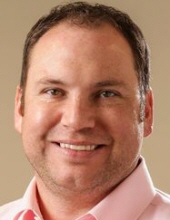 Obituary for Scott Joseph Conlon
Scott Joseph Conlon, a beloved father, son, brother, uncle, husband, and friend, left us suddenly on November 14, 2022, at the age of 41. He joined his family and friends who passed before him. Scott was born on September 15, 1981, in Washington, DC and had three older siblings: Christopher Conlon of Baltimore, MD, Sandra Conlon Long of Mount Airy, MD, and Sean Conlon of Straughn, IN. His proud parents are Ronald Conlon and Renate Gessner Conlon of Largo, FL. As a military dependent, Scott attended several schools in both the United States and Germany. Scott attended grade school in Munich, Germany from 1984–1989. He enjoyed many sports, mainly baseball, bowling and golf. He was once an avid walker who participated in "Volksmarching" 5 to 10 kilometers at a time (3.1 to 6.2 miles). Scott attended middle school in the 1990's in Las Cruces, NM and Fort Meade, MD. He then graduated from Meade Senior High School in 1999. He attended Anne Arundel Community College (AACC) and University of Maryland Baltimore County (UMBC) and, in 2004, he transferred to University of South Florida (USF), from which he earned a Bachelor of Science degree in Information Technology. Scott lived in the Tampa, FL area since he first arrived as a student at USF.

Scott was very proud of his two children, Brycen Thomas (age 7) and Ashton Joseph (age 4). Earlier this year, Scott took his sons on their first camping trip with the mother of his children, Jennifer Keys Conlon of Riverview, FL. He was able to share his love and curiosity of space and the beyond, as they were able to view shooting stars from a meteor shower that same weekend. Scott also recently celebrated Ashton's 4th birthday at Sea World. He loved riding the roller coasters with the boys, encouraging them to be brave and take risks. He spent many weekends with his boys at the beach, attending Home Depot Kids workshops, going to baseball games, and riding the Tampa trolley. Getting "ice pops" in downtown Tampa is an especially important memory for his boys. Inspired by their Dad, his boys are young entrepreneurs with their YouTube channel, Fat Yoshi, promoting game play strategies from a youthful perspective. Brycen recently inquired how much it would cost to start up a business!

Scott was an important member of Tampa's business community and a huge supporter of local businesses. The business he founded, MyAreaNetwork, was awarded USF Alumni's Fast 56 Award multiple times, placing 4th in 2017. The Fast 56 recognizes the fastest growing Bull-owned or Bull-led businesses. In addition, he was recently awarded the Tampa Bay Business Journal's Top 40 under 40 Award, as the President and Chief Executive Officer of MyAreaNetwork, the parent company of the local website 813area.com.

Scott will always be remembered as an innovative, intelligent, generous, and loving soul. He overcame many challenges from birth, with his rare congenital heart condition of transposition of the great vessels that was repaired with a Mustard Senning procedure. Scott and his family participated in a support group online for individuals living with this condition. He knew he was truly blessed with every healthy year he had, and he used his time to leave a legacy for his family and community.

Scott is survived by his parents, wife, children and numerous aunts, uncles and cousins, including his in-laws Craig Long of Mount Airy, MD and Holly Gunter Conlon of Straughn, IN. He is also survived by his parents-in-law Thomas and Cinde Kloecker Keys of Apopka, FL, a brother-in-law, Jason Keys of Ashburn, VA, and two sisters-in-law, Amy Keys of Washington, DC and Lauren Keys of Maitland, FL. Predeceased family members include John J. Conlon, Jr. (uncle), grandparents, John J. Conlon and Lillian Cantin Conlon all from Stamford, CT; Alfred Norman and Juliana Happ Norman of Bellevue, OH.

A Celebration of Life ceremony will be held on Tuesday, November 22, 2022, at Southern Funeral Care, 10510 Riverview Drive, Riverview, FL 33578. A viewing will be held between 10 a.m. and 11 a.m. followed by a closed casket prayer service at 11 a.m. There will also be a Celebration of Life ceremony with Catholic Mass at St. Lawrence Martyr Church, 7850 Parkside Blvd, Hanover, MD 21076 on Friday, December 16 at 1 p.m. In lieu of flowers, contributions can be sent in Scott's honor to the Children's Heart Foundation: childrensheartfoundation.org

Read More
Previous Events
Visitation
Southern Funeral Care and Cremation Services, Inc.
10510 Riverview Drive
Riverview, FL 33578
Service
Southern Funeral Care and Cremation Services, Inc.
10510 Riverview Drive
Riverview, FL 33578