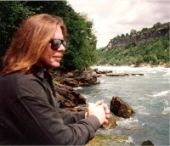 Obituary for Scott Francis McElligott
Scott Francis McElligott

Scott McElligott
57, of Riverview, passed away Sunday, February 1, 2009. Originally from Illinois, Scott was a combat veteran of the Vietnam War, a graduate of the University of South Florida and worked as a telecommunications engineer and manager here in Tampa. He is survived by many loving family and friends in Florida and Illinois. His wife Susan and daughter Devyn; his parents, Francis and Nancy McElligott of Collinsville, Ill.; brother and sister-in-law, Tim and Pam McElligott of Fenton, Mo.; sister and brother-in-law, Lynn and Joe Weissert of Edwardsville, Ill.; mother-in-law Lydia Bullard of Brandon; sister's-in-law Lisa Rodriguez and Angela Tavlan of Brandon and numerous nieces, nephews and cousins.

He lived life to the fullest and will be missed dearly...
We love you always - Sue and Devyn.