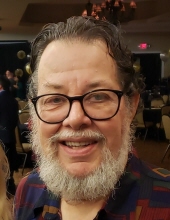 Obituary for Sandford L. Gladden
GLADDEN, Sandford L., 69, of Riverview, passed away on Tuesday, September 22, 2020. He is survived by his daughter, Deanna (Darrell) Lutjens; brother, Robert (JoAnn) Gladden; sisters, Claudette Gladden, Jenny Gladden, and Indy Gladden. Sandford worked for over 20 years as a Magician and a Clown in the Riverview area. He was a loving father to Deanna Lutjens. He helped raise her from the age of 5 with her mother Theresa. Sandy enjoyed taking his family to Renaissance festivals in costume, swimming and picnicking at Lithia Springs, and celebrating the holidays by going all out and making them special. Deanna could not have asked for a better childhood because Sandy chose to be her dad.

Sandy started a business as "Jumbo the magic clown" which made it possible for him to be a full time Children's entertainer and a "Birthday party expert". He added other characters such as the Purple Pirate, Elf, Comedy Magician, Santa Claus, and at Halloween, Dr. Doomsday. In 2003 he received the Order of Merlin from the International Brotherhood of Magicians for 35 continuous years as a performing Magician. He provided magic shows for the Hillsborough County Public Schools and the Park and Recreation Department plus many day cares, Churches and nursing homes. He also performed for many large corporations such as: The Rays, Channel 10, the Tampa Tribune, just to name a few.

The family will be hosting a celebration of life at a later date.
Read More