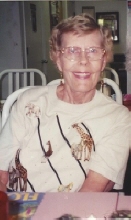 Obituary for Ruth Irene Rosenstiel Schipfer
Ruth Schipfer

SCHIPFER, Ruth, 85, passed away on Monday, July 8, 2013, without pain and suffering. She resided in Brandon for more than 65 years coming from Freeport, IL and was a retired English teacher at King High School. She was a member of St. Andrews United Methodist Church, Nifty-fifty Club at Immanuel Lutheran Church, Brandon, Homemakers Club of Brandon and was a regular visitor at Brandon Seventh-day Adventist Church. She is survived by her 3 children, Sandy, Candy and Andy, and 5 grandchildren, Jessica, Kristen, Aaron, Garrett and Ryan, who will always share memories that will never end.

Funeral Information

Private graveside services will be held by the family on Sunday, in Clearwater, where her parents were buried. A Memorial Service will be held 6:00 P.M. Friday, July 19, 2013, at St. Andrews United Methodist Church, 3315 Bryan Road, Brandon, with the family receiving friends one hour prior to services.