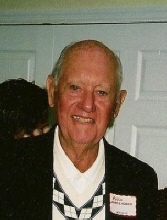 Obituary for Rocco Nicholas Marsicano
Rocco Nicholas Marsicano

MARSICANO, Rocco Nicholas, 94, a Tampa native and long-time resident of Amelia Island Plantation, Fernandina Beach, FL, passed away Monday, December 3, 2012 in Jacksonville, FL. One of six children born to Sarah and Rocco, he graduated from Jesuit High School, attended the University of Florida and was a long time gator fan. Rocco was a WW II veteran, serving in the U.S Army Air Corps in Greenland and the South Pacific. He married Ruth Eleanor Farrell in Youngstown, Ohio, in 1944, and were married for 65 years. Rocco was a founder and co-owner of Jax Machines, a well-known appliance business in the Jacksonville area. Rocco and Ruth enjoyed retirement on Amelia Island, where both were avid golfers. He was a devout Catholic, a second-generation Italian, and was exceptionally proud of his son Ed, a published author and Professor of Cultural History at Bainbridge College in Georgia. Rocco was pre-deceased by his wife, Ruth; his son, Ed; sisters, Marie Hunsinger, Antionette Corry, and Evelyn Baker and brother, Charles Marsicano, Sr. He is survived by his brother, Ralph Marsicano and wife Lois, Tampa; brother-in-law, Tom Farrell and wife Marge, Venice, FL; sister-in-law, Patricia Hepburn, Ridgefield, CT, and many loving nieces, nephews and dear friends. Heartfelt gratitude is extended to nieces Mary Morgan and Laurie Hepburn and nephew Al Corry for their loving vigil with Uncle Rocco, helping him pass peacefully into the arms of the Lord.

Funeral Information

Graveside services, with military honors, will be held at 1:00 P.M. Monday, December 10, 2012, at Florida National Cemetery, Bushnell, FL. In addition, a Memorial Mass will be held on Tuesday, December 11, 2012, at 10:00 A.M. at St. Michael's Church, Fernandina Beach, FL, with Fr. Jose Kallukalam, Celebrant.
Read More