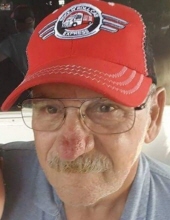 Obituary for Robert W. Granville
Robert "Bob" Granville Sr, 75, of Lithia, FL passed away peacefully Tuesday March 29, 2022 at Tampa General Hospital in Tampa FL after battling complications related to COPD and Asbestos Lung Disease. Bob went to be with the Lord with his loving wife, his daughter Ashley, and a few close family members by his side.

Bobby was born on February 26, 1947 in Bethesda, MD to Charles and Myrtle Granville. He moved to Florida with his parents and older sisters in 1958 and has resided in the Lithia area since 1963.

He leaves behind his dedicated wife of 44 years, Cheryl Granville of Lithia FL. One son, Robert Granville Jr. (Goat Granville) of Jacksonville FL, two daughters, Stephanie Granville of Lakeland FL and Ashley Custis of Lithia FL, and a special nephew that was like his own son, Cody Perez of Brandon FL. He is also survived by his five grandchildren, Kassidy Jeffords (Dalton Jeffords) of Jacksonville FL, Kirsty Granville of Jacksonville FL, Wesley and Abigail Granville of Lithia FL, Tyshon Custis of Lithia FL and one great grandchild expected in June 2022, Baby MJ Jeffords. One sister, Marylin Godwin of Jacksonville FL and many loved nieces and nephews.

Bob was preceded in death by his father Charles and his mother Myrtle as well as his sister Karen Tarleton.

Bob was employed at Sears and Roebuck where he worked for 26 years before opening his own business, A to Z Enterprise, in 1990. A to Z remained open until 2019 at which time Bob "retired" and moved his business to his home. Even though he had retired he continued to work until March 15, 2022 when he was admitted to the hospital.

From his kids: Our Dad was the smartest, most hard working man we have ever known. He could take a motor apart and put it back together in record time. There wasn't anything that he couldn't fix. Not only was our Dad smart, he was also kind, generous and strong. He would give his last dollar and the shirt off of his own back if someone was in need. He was our provider and our protector. He always had a kind word or useful advice to offer and you could talk to him about anything. He was a wonderful father to us but he also showed so many others what being a father truly means. Dad, we can't imagine what it's going to be like without you here, but knowing that you are in heaven is the best gift you could have ever left us with. We find comfort in knowing that you are in the presence of our awesome God!

Services will be held 11:00 A.M. Saturday, April 2, 2022 at Southern Funeral Care, Riverview, with the family receiving friends one hour prior to services.
Read More
Previous Events
Visitation
Southern Funeral Care and Cremation Services, Inc.
10510 Riverview Drive
Riverview, FL 33578
Celebration of Life Service
Southern Funeral Care and Cremation Services, Inc.
10510 Riverview Drive
Riverview, FL 33578