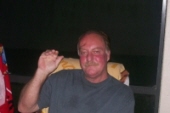 Obituary for Robert R. Venice
Robert R. Venice

Venice, Robert R., 59, of Tampa, passed away on Sunday, February 6, 2011. Survivors include his wife, Eileen Venice; Son, Robert (Jaime) Venice, Jr.; daughter, Nicole (Frank) Colucci; brother, Richard Venice; sister, Lorraine Amberosino; and many nieces and nephews.

Funeral Information

A celebration of life service will be conducted 3 p.m. Saturday, February 12, 2011 at Southern Funeral Care with the family receiving friends one hour prior to the service.