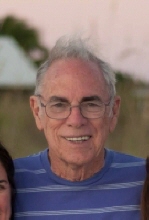 Obituary for Robert Louis Benitez
Robert Louis Benitez

BENITEZ, Robert (Bob), 81, of Tampa, passed away Saturday, June 3, 2017. He is survived by his wife Karlene; children, Suzanne, Robert, Jean, Michael, Mark and Steven; siblings, Shirley and Harvey and 10 grandchildren. Bob served as a Navigator in the U.S. Air Force in Korea followed by a career in IT at Eastern Airlines before retiring from GTE Data Services. Throughout his life, Bob followed his passions of fishing, building projects, golf, volunteering at his church, and especially, spending time with his family. Bob was known for his engaging smile, charming personality, quick wit and for tirelessly offering his time and talent to help others.

Funeral Information

Memorial Services will be held 5:00 P.M. Thursday, June 29, 2017, at Highpoint Church of Brandon, 2207 Lithia-Pinecrest Road, Valrico, FL, with the family receiving friends one hour prior.