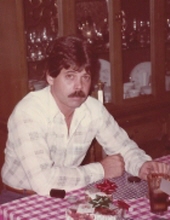 Obituary for Robert Edward "Bob" Machias
Robert Edward Machias


MACHIAS, Robert Edward 'Bob', 71, of Valrico, passed away peacefully on Sunday, December 3, 2017 with his loving family by his side. A native of West Palm Beach, FL, he resided in Tampa and Valrico most of his lifetime. Bob was a Life member of the (NRA) National Rifle Association and the Dade City Rod & Gun Club, where he served two terms as their President and many years as a Range Officer and Board of Director member. Bob was also a member of the Lakeland Rifle and Pistol Club for many years. Bob enjoyed spending time target shooting and fishing with his sons and brothers. Bob had a passion for cooking and a love for animals, especially his feline fur babies. Bob was a very loving, dedicated and loyal husband, father, brother and friend with an unusually unique sense of humor and quick wit, you couldnt help but to love him. Bob is preceded in death by his mother, Ofelia Alonso, his father, Edward Eddy Machias, his step-father, Angel Alonso, Sr. and his aunt and uncle Georgina Gina and Antonio Tony Bernardez. Bob is survived by his loving wife of 31 years, Linda, sons, Mark Edward and Michael Anthony Machias and brothers, Harold Anthony Machias and Angel Alonso, Jr.


Funeral Information


Services will be announced for a later date.