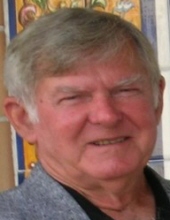 Obituary for Robert Dwight "Bobby" Aman
Robert Dwight "Bobby" Aman passed away July 10, 2022 in Plant City, FL. He was born August 7, 1927 in Tampa to the late Dwight Luther Aman and Mary Margaret Semple Aman as a 3rd generation Floridian. Bobby graduated from Plant City High School in 1944. During high school, he met the love of his life, Gwendolyn Dossey, and they married September 21, 1945 and were married 76 years. Bobby enlisted in the Navy soon after and was on patrol in the South China Sea following the end of World War II before being honorably discharged. The young couple moved to Miami for job opportunities and then in 1953 moved to Brandon where they raised their three children and met many lifelong friends. They owned Bob Aman Plumbing for 45 years and installed most of the plumbing in the growing Brandon community and surrounding areas. Bobby, as a Master Plumber, provided the technical skills of planning and costing blueprints for the building and housing contractors as Brandon grew.
In addition to owning Bob Aman Plumbing, Bobby was a charter member of the Brandon Rotary Club and the Brandon Elks Lodge #2383. He lived in Brandon when Brandon had one stop light, one grocery store (U-Save) and the Brandon Hardware store. Bill's Prescription and Dr. Theodore Grable were other ole-timers in town. Bill Noriega, Dr. Grable, and Bobby would meet for early morning coffee at Bill's Prescription or Harris' restaurant before beginning their various work.
Gwen and Bobby were founding members of Holy Innocents Episcopal Church whose first congregates met in the Valrico Community Center while the original church building was being constructed. Bobby installed the plumbing as a contribution to the church and to additions as they occurred. Bobby served in various church vestry positions and was active in Cursillo, Kairos Prison Ministry, and cooked many wonderful meals in support of the church Men's Club activities.
Gwen and Bobby were charter members of Buckhorn Golf and Country Club, and Bobby enjoyed playing golf with his friends every Wednesday afternoon. No plumbing problem kept him from his standing foursome of John Adkinson, George Sledge, and Wilbur Futch and the golf course on a Wednesday. He always enjoyed the weekly social suppers at his and Gwen's special table in the bar area.
Bobby loved fishing and passed its joy to his children, grandchildren and great-grandchildren. He loved to hunt and belonged to a hunting club for 50 years with Wilbur Futch. He enjoyed many summers in Western North Carolina in their mountain cabin with Gwen and doing some shore fishing at their Indian Rocks condo. Bobby would get deathly sea-sick so he never went deep sea fishing and made his Navy days miserable.
In retirement, Bobby loved planning and planting his large vegetable garden and planted an orange grove. He learned to bud and graft his own trees. He could often be found on his tractor working the land.
He is predeceased by his brother Edward Bruce Aman and sister Janeth Aman Morris. Bobby is survived by his beloved wife, Gwendolyn Aman and brother, Dwight Aman. He leaves behind his adored children, Lynn (Homer), Debbie, and David. He is survived by 6 treasured grandchildren; his daughter Lynn's children, Todd and Kimberlyn; his daughter Debbie's children, James (Tammy), Adrienne (Jason), and Camille (Jonathan); and his son David's child, Kirsten. He is also survived by 12 dearly loved great-grandchildren.
A memorial service will be held at Holy Innocents Episcopal Church, 604 N. Valrico Road, Valrico, FL at 11 AM, Tuesday, July 19, with the family receiving friends one hour prior to the service. There will be a reception at the church following the service. Interment will be a family gathering at Mount Enon Cemetery in Plant City.
In lieu of flowers, memorials may be made to Holy Innocents Episcopal Church or the charity of your choice in memory of Bobby.
The Memorial Service will have a live feed at the Holy Innocents' Episcopal Church Facebook Page.
Read More
Previous Events
Visitation
Holy Innocents' Episcopal Church
604 N Valrico Rd.
Valrico, FL 33594
Memorial Service
Holy Innocents' Episcopal Church
604 N Valrico Rd.
Valrico, FL 33594
Cemetery Details
Location
Mount Enon Cemetery
3624 N Frontage Rd
Plant City, FL 33565
Memorial Contribution