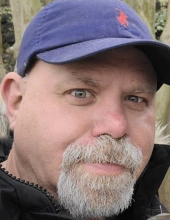 Obituary for Robert Alan Wagner
Robert Alan Wagner 54, of Brandon, FL, passed away on September 18, 2022. The space Robert Wagner leaves in his absence is devastatingly and painfully empty, and sadly one none of us will ever be able to fill. 54 years of his presence will never be enough, but the endless memories and love he imparted upon us will live on forever. His family lived at the very root of who Robert was. Of course, he wouldn't have been who he was without his sarcasm, jovial nature, or drive to help others, but his love and passion for his wife and daughters was - and always will be - evident. For them, he will never be gone. For his children, he lingers in memories of family dinners, of badly singing to songs on the radio during family road trips, of bear hugs and phone calls that he always made sure ended in an "I love you". For his wife, he lingers in countless memories over the span of 24 years of marriage and 36 years of being high school sweethearts. In December, they would have celebrated their 25th wedding anniversary. Although Robert's nature might have been nothing short of abstract to some (at times, including his own family), his love for people was massive. He would always tell his family stories about his coworkers, friends, people he met at the gym and even a cashier at the corner store by their home. He loved Netflix tv shows and movies, sweets (his daughters still doubt if he ever had hypoglycemia, which he would use as an excuse to steal their candy), working out, and debating. If neither of his daughters end up being a lawyer in the future, it would be a massive surprise. He will be sincerely missed, but never gone. Please note that due to the hurricane, services have been postponed and a new date will be determined. Please check funeral home website for updates. In lieu of flowers, please make donations to the American Heart Association.
Read More
Events
Event Information
Services will be set for a future date to be determined.
Memorial Contribution