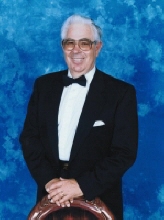 Obituary for Robert A. Wood
Wood, Robert A.

Wood, Robert A., 82, of Riverview, Fla., went home to his Lord Sunday, December 12, 2010. He is survived by his loving wife, Ann; daughter, Diane Wood Lance; and sister, Marge Stapor. He was a charter member and senior deacon at Gardenville Baptist Church, a life member of both Gideon's International and Instrument Society of America, retired from Gardinier-Cargill, and a U.S. Army veteran.

Funeral Information

Services will take place at 2 p.m. Friday, December 17, 2010, at Gardenville Baptist Church, 7010 Payne Ave., Gibsonton, Fla., with the family receiving friends one hour prior to services. Interment will follow at Serenity Meadows Memorial Park, Riverview.