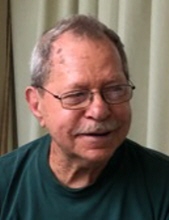 Obituary for Robbie L. Hemphill
Robbie L. Hemphill went to be with the Lord on January 23, 2022. He was admitted to Intensive Care on January 19th due to breathing problems. Rob was transferred to a regular room for a short time but had to return to ICU for sedation and continued oxygen. He was fighting them and pulling off the mask. He never wanted extreme measures to be taken and we honored his wishes.
Robbie was born in Georgia, the youngest of Ruth and James Hemphill's eight children. His siblings had a hand in raising him and helping him grow up.
Robbie decided after graduating that he would live in Orlando, Florida with his sister Bea and husband Oran. The guys were going to become plumbers.
Robbie married Kathy in 1963. They, along with Oran and Bea, Jack and Jean, moved to Key West. Robbie wanted Kathy to have a baby. They were blessed and had Cheryl. Robbie was so proud because everyone said the baby looked just like him.
They moved back to Orlando and Robbie got a job with S.I. Goldman. Robbie and Kathy have their son Matthew.
After Cheryl's graduation, the family packs up and moves to Tampa. Robbie commuted back and forth for a year so Cheryl could graduate with her friends. What a great Dad!!
Robbie is survived by his wife, Kathy, of 58 years; daughter Cheryl, husband Albert, their daughters Amber and Danielle from Texas. Matthew's wife, Kathy and his daughter Madison. Grand Pa was very proud of his granddaughters. Robbie felt very blessed to have his three sisters, Pauline, Bea and Marie.
Services are private.
Read More
Events