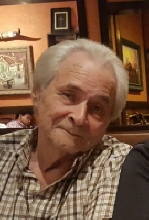 Obituary for Richard Volz
Richard Volz

VOLZ, Richard "Pops", 78, of Riverview since 1967, passed away on Thursday, February 25, 2016. Born November 14, 1937 in Santa Barbara, CA, he was 6 years in the US Air Force as a jet engine mechanic and 60 years in industrial maintenance and management. Mr.Volz was also a coach at East Bay Little League for 11 years. He is survived by his wife, Bette Jean "BJ" Volz; sons, Richard A. "Ricky" Volz and Steven A. (wife, Lisanne) Volz; sister, Sue Cozzi; 2 grandchildren, Veronica and Vanessa Volz and 4 step-grandchildren, Tahrea, Kayla, Johnny and Kelly Perez.

Funeral Information

A Celebration of Life Service will be held 11:00 A.M. Saturday, March 12, 2016, at Southern Funeral Care, 10510 Riverview Dr., Riverview, with the family receiving friends one hour prior to services.