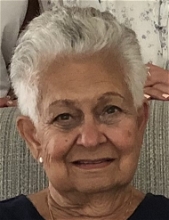 Obituary for Phyllis Petrowski
Phyllis Petrowski nee Tramontano 81 years old
Died: May 2, 2023
Riverview, Florida and Massapequa, New York
Phyllis, the eldest child of Frank and Josephine Tramontano, was born in Bay Ridge,
New York and raised in Laurelton, New York above her family's hardware store.
Upon graduating from Dominican Commercial High School, she started working at
Western Electric in New York City where she met the love of her life, Paul. They
wed on a scorching April day in 1962.
A fierce feminist and a feisty Italian, Phyllis was a passionate reader and shared her
love of books with her grandchildren and other children through her work as an
aide in a Montessori Preschool and later as a Special Education Teacher's Aide for
the Plainedge School District. In 1981 she was elected to the Plainedge School
Board where she tirelessly advocated for the children of the district.
Phyllis and her family resided on New Hampshire Avenue in Massapequa where
they had close-knit neighbors who were like family. She was the ultimate "soccer
mom" and never missed her children's games. She was an active member of Maria
Regina RC Church and a volunteer for various parish ministries which included
working with bereaved families and maintaining the food pantry. Upon retiring,she
and Paul loved traveling the world and especially cherished their time on cruises.
Phyllis is survived by her husband of 61 years Paul, her daughters Linda Zwyhun
(Nestor) and Pamela Winkler (Thomas), grandchildren Kelsey Johnson (Michael)
and Peter Zwyhun, her siblings Anthony Tramontano (Louise) and Francine Metkiff
(William), numerous nieces, nephews, cousins and her caregiver, Peggy Speece.
She was predeceased by her son Michael.
"Remember that when you leave this earth, you can take with you nothing that you
have received - only what you have given: a full heart, enriched by honest service,
love, sacrifice and courage." - St. Francis of Assisi
Services will be at a later date in New York.
Read More