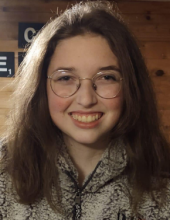 Obituary for Payton Hardy
Payton Hardy, from Brandon, Florida, passed away at home on January 10, 2023, after a 15-month battle with glioblastoma. She was surrounded by her loving family and her dogs. Payton was born on May 7, 2006, and is survived by her best friends and sisters, Hayley Hardy and Bella Ocasio, and her loving parents Cynde and Steve Hardy.
Payton was a determined warrior who never let her cancer stop her. She kept up her studies and achieved high academics her entire life. Her goal was to attend Oxford. She attended the Collegiate Academy at Armwood High School and as a junior, was one class away from graduating high school and was more than halfway through her Associates in Arts Degree. Not only was academics her passion, but she also loved playing the Bass Clarinet and the Saxophone in the Armwood Hawk Band and loved creating lighting displays for the theatre department. Outside of school, dance was her outlet. During Covid period, she took the opportunity to teach herself Tap Dancing. Following that she joined Dance Quest International. She went on to take dance lessons in Tap and Contemporary. She loved being a part of this Christian Organization that took her in with loving arms. Every Saturday night, she loved attending services at Baylife Church. She was determined to attend church services and did so up until her last weekend. Payton had a solid faith and felt that everyone should be loved. Every time an emergency vehicle would pass by, she would pray that everyone would be okay. She will be remembered for so much. Her positivity in every aspect of her life, her smile that lit the room, her kindness that reached out to all and her fight. She was a warrior to the end. She was born to change the world and she succeeded!
In addition to her immediate family, Payton is also survived by her maternal grandmother, Nini, Margaret Van Dame. She is now with her maternal grandfather, Papa, Norman Van Dame, in Heaven. She is also survived by her paternal grandparents Mimi, Beverly Hardy, and her Pops, Bob Hardy. Her aunts and uncles who all loved her, Rob Hardy, Allison Arnold, Stephanie and Frank Pfister, T.J. Van Dame, and Mark and Jennifer Van Dame. She adored time with all her cousins: Lauren Van Dame, Katie Van Dame, Autumn and Summer Van Dame, Robbie Hardy, Kimberly Bean, Tanner Hardy, Valerie Arnold, Zack Arnold, Jacob Pfister, Lucas Pfister, and her pal, Nick Pfister. She enjoyed time with friends, Andrea Burga and MaryBeth Southworth.
Celebration of life will be on January 21st, 2023, at 10:00 at Baylife Church in Brandon, Florida. Visitation will start at 9:30. Ceremony will be at 10:00 with a reception to follow. All are invited. The family is asking for attire to be casual. Wear something that is related to Payton.
In lieu of flowers, the family is asking that donations be made to the Children's Cancer Center of Tampa Bay. They offer so many needed services to teens with cancer. Specifically, Payton attended the teen group, felt accepted, and loved.
Read More
Previous Events
Visitation
Bay Life Church
1017 Kingsway Road
Brandon, FL 33510
Celebration of Life Service
Bay Life Church
1017 Kingsway Road
Brandon, FL 33510
Memorial Contribution