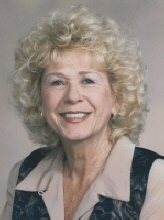 Obituary for Patricia L. (Ofgant) Dykes
Patricia L. (Ofgant) Dykes

DYKES, Patricia L. (Ofgant), of Brandon, passed away on January 30, 2013. A native of Jacksonville, raised in Miami, FL, she graduated from Edison High School in 1956. Prior to coming to Brandon in 1965 with her husband, she received an honorary degree in Putting Hubby through School from the University of Miami, School of Architects. She was preceded in death by her husband of 54 years, Bob Dykes and her grandson Cody Dykes. She is survived by her daughter Tammy Jacobs (Randy); her son Lee Dykes (Tracey) and five beautiful granddaughters, Kelly and Kazie Jacobs, Mandi, Molly and Macy Dykes. She was a loving wife, mother and nana and very blessed to have some really special friends. Pat and Bob were the owners/operators of Oakfield Lanes Bowling Center for 30 years. Pat was a member of the Order of the Eastern Star, Linsley Ch. #152, Brandon. Pat was a very energetic woman and she loved the beach.

Funeral Information

Funeral services will be held 11:00 A.M. Monday, February 4, 2013, at Southern Funeral Care, 10510 Riverview Dr. Riverview, with the family receiving friends one hour prior to services. Interment will follow at New Hope Cemetery, Brandon.