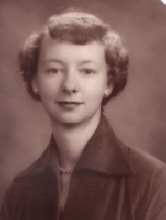 Obituary for Patricia Jane Emnett Crumbley
Patricia Jane Emnett Crumbley

CRUMBLEY, Patricia Jane Emnett, born in 1931 in Lewis County, Kentucky, she died in the early morning hours of Thursday, May 29, 2014. She grew up in the Raleigh/Durham areas of North Carolina. She loved school, loved to read, and enjoyed many hobbies throughout her life. After graduating from nursing school at Mercy Hospital in Charlotte, she moved to Tampa to join her immediate family in the tropical paradise of Florida. In her distinguished career in nursing, she worked at many of the hospitals in Hillsborough County, beginning with the original St. Joseph's Hospital when it was near downtown Tampa. She married Walter Sidney Crumbley, and they had five children. Mid-career and following divorce, she went back to school at the University of South Florida to obtain bachelor's and master's degrees in nursing. She excelled academically in the inaugural class at USF of a program for practicing nurses who wanted to further their education. With these credentials, she helped open Brandon Community Hospital, and she ultimately retired from her position of in-service education at Moffitt Cancer Hospital. She began nursing before CPR was invented. She always remembered the tragic death of a little girl who drowned when the mother went out to pick up the girl's birthday cake. After seeing the lifesaving miracle of CPR, she taught it for the rest of her career and even served as American Heart Association's chair of the CPR education committee. She volunteered her time as a nurse in health clinics set up for migrant farm workers, she worked in food pantries to feed the hungry, and she was a pastoral care volunteer at St. Joseph's Hospital. This is just a small part of her story and the contributions she made. Pat was a devoted daughter, who is predeceased by her parents Mary and C.J. Emnett, but survived by her baby brothers, Don (Jean) and Ed (Vicki). She was a loving mother adored by her five children, Walt, Joe, Judy, Mary Beth (Kevin) Kuenzel, and Debbie (Jim) Brown. She also leaves behind three grandchildren, two great-grandchildren, nephews, nieces, extended family, and countless friends who mourn her loss. Even under the toughest of circumstances with her recent illness, she was full of grace and thanked everyone who attended to her. She lived a full life and was able to remain in her home of fifty years with the loving attention of her oldest daughter, Judy. Her final days were greatly eased by the caring nurses and staff of St. Joseph's Hospital, and the family will always be grateful for their kindness and for the excellent care of her longtime physician, Dr. Norman J. Castellano.

Funeral Information

A Funeral Mass will be celebrated 10:00 A.M. Tuesday, June 3, 2014, in the chapel at Nativity Catholic Church, Brandon. The family will receive friends Monday, June 2, 2014, from 6:00 until 8:00 P.M. at Southern Funeral Care, 10510 Riverview Drive, Riverview. Interment will follow at Garden of Memories Cemetery, Tampa.