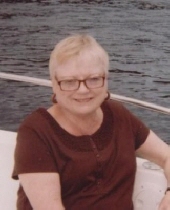 Obituary for Patricia Ann Le Jeune
Patricia Ann Le Jeune

LE JEUNE, Patricia, ("A Class Act"), 68, of Brandon, passed away on Sunday, January 11, 2009. She was a member of Kappa Delta Phi Sorority and Director of the Nativity Catholic Church Food Pantry and was preceded in death by her son, T.J. Le Jeune. She is survived by her loving husband of 44 years, and college sweetheart of Marquette University, Tom; her loving children Douglas and Jacqueline Le Jeune; daughters-in-law, Laura and Brandy Le Jeune; father, Arnold Kempf and three loving grandchildren, Tommy, Sam and D.J.

Funeral Information

The family will receive friends Thursday evening from 6:00 until 8:00 P.M. at Nativity Catholic Church, Brandon. A Funeral Mass will be celebrated 10:30 A.M. Friday in the main sanctuary of Nativity Catholic Church, Brandon. Interment will follow at Limona Cemetery, Brandon.