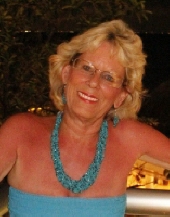 Obituary for Pamela Floyd Duncan
Pamela Duncan

DUNCAN, Pamela, of Riverview, FL, passed away on Wednesday, November 19, 2012, in Brandon Regional Hospital due to respiratory failure. Pamela was born to Bob and Betty Floyd on August 18, 1953 in Lakeland , FL and graduated from Lakeland High School. She is survived by her husband of 28 years, Phil Duncan, Riverview; sister, Terri White; brother, Vance Floyd, both of Lakeland; daughter, Kristen Heyser, Tallahassee, FL and was preceded in death by her son, Sean Thomas. Pamela had a great career as a representative of several food companies among which were Eatem Foods of New Jersey, Custom Foods of Tennessee, and Southern Mills of Rome, GA. She belonged to both the American Culinary Federation and Sertoma. She became interested in cooking and became quite a gourmet chef over the years, making many interesting and fine meals for family and friends. She always loved to travel and had done so extensively with her husband. The Caribbean was one of her favorite destinations, and they made many trips to that area.

Funeral Information

A small family memorial will be held to honor her and to remember her life.
Read More