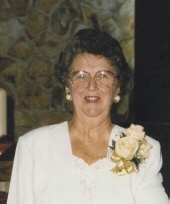 Obituary for Olive Jean Age
Olive Jean Age

AGE, Olive Jean, 85, of Valrico, FL, passed away on Tuesday, November 13, 2012. A native of Tampa, she had resided in the area for 55 years coming from Louisville, KY. She was a charter member of Apostles Lutheran Church, Brandon, FL; a member of the Strawberry Singers, Strawberry Ridge, the church choir and Strawberry Ridge Craft Club. She is survived by her husband, Roy; son, Mark Age, Hudson, FL; 2 daughters, Kimberly Age, Clearwater and Lisa Age Courchaine, Land O'Lakes; 2 brothers, Harry Schmidt, Loudon,TN and Lonnie Schmidt, Shepherdsville, KY; sister, Martha Corbett, Okalona, KY; 5 grandchildren and one great-grandchild.

Funeral Information

A memorial service will be held 11:00 A.M. Saturday, November 24, 2012, at Apostles Lutheran Church, Brandon, FL.
Read More