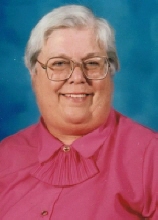 Obituary for Okle Catherine Jones
Okle Catherine Jones

JONES, Okle Catherine, 71, of Brandon, FL, formerly of Jacksonville, FL, went to be with her Lord on Wednesday, February 11, 2009. A native and life-long resident of Jacksonville, she had resided in Brandon since August, 2008. The daughter of Lloyd E. Jones, Jr. and Okle W. Jones, owners of American Office Supply, she is survived by her siblings, Lloyd E. (Susan) Jones, III, Nashville, TN, Audrey (Daniel) Williams, Brandon, FL and Ben P. (Karen) Jones, Midlothian, VA; nieces, Catherine (Mike) Williams, Audrey (Joe) Phillips, Okle (Rich) Miller, Elizabeth Williams, Jennifer (Mike) Wright, Kimberly Phillips, Libby (Dave) Selle and Alison Jones; great-nieces and nephews, Jesse Wright, Phillip Wright, Lauren Phillips, Emily Phillips, Hannah Phillips, Ashley Phillips, Valerie Williams, Meredith Williams and Audrey Miller. Okle attended Bartram School, Florida State University (Bachelor of Music), Southwestern Baptist Theological Seminary (Masters of Religious Education) and University of Florida (Masters in Education) and a member of the Sigma Alpha Iota and Delta Kappa Gamma Sorieties. She worked as a church Youth Director in Springhill, LA, taught school in Duval County for 33 years, retiring from Jefferson Davis Middle School as a math teacher and taught choral music at Kirby Smith Junior High School. A private piano teacher, she also was a pianist for several churches with her last at Wesconnett Baptist Church, Jacksonville.

Funeral Information

Funeral services will be conducted 2:00 P.M. Monday, February 16, 2009, at Wesconnett Baptist Church, 5711 Wesconnett Blvd., Jacksonville, FL 32244, with the family receiving friends one hour prior to services. Interment will follow at Evergreen Cemetery.