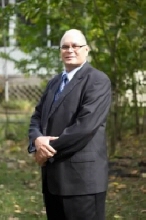 Obituary for Norberto Muniz
Norberto Muniz

MUNIZ, Norberto, 51, of Brandon, passed away on Wednesday, December 23, 2015. A native of Brooklyn, NY, he has resided here since 2002, was an automotive mechanic and a Christian. He is survived by his wife, Leticia Catala; daughters, Leticia Muniz and Melissa Baez; sons, Vladimir and Omar Tanon; parents, Manuel Munz and Neida Roman; brothers, Carlos, Luis, Manuel, Angel, Eugene and Manuel Muniz; sisters, Carmen Leon and Marisel Muniz and 8 grandchildren.

Funeral Information

Funeral services will be held 11:00 A.M. Tuesday, December 29, 2015, at Southern Funeral Care, 10510 Riverview Drive, Riverview, with the family receiving friends one hour prior to services.