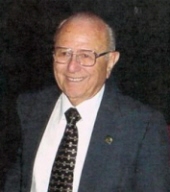 Obituary for Nick Capitano
Nick Capitano

CAPITANO, Nick, 98, (known affectionately to many as Mr. Nick) passed away in Tampa, Thursday morning, May 22, 2014. He was a Tampa native born to his late parents, Giuseppe Capitano and Rosalia Lazzara. He was preceded in death by the love of his life, his wife for 71 years, Angelina Cappello Capitano. Nick was also preceded in death by his brother, Joe L. Capitano his son-in-law, Alfonso Garcia, Jr. When he and his wife moved to Brandon, he remained active at the Catholic Church of the Nativity for 40 years, gathering many fond memories with Monsignor James Lara. In 1931, Mr. Capitano founded Radiant Oil Co. of Tampa, now known as Radiant Group, which today is still operated by his family. In the early years, his wife worked side-by-side with him at home, receiving phone orders, before Nick ever had an actual office. He was a Texaco distributor for many decades. He witnessed the industry transform from the horse and buggy era to the modern day. Nick was instrumental with the Florida Petroleum Marketers and in 2001 was placed in its' Hall of Fame. He is a Legend and an Icon! In 1947, he joined the Optimist Club of Ybor City, serving as President in 1954. He recently received from the Optimist International President, a tribute to 75 years of Optimist Service. His activities with Jesuit High School were in the Dad's Club as well as helping in the early 1960's, under Father Charles Lashley, S. J., launch "A Night to Remember" as its major fund-raiser of that era. He remained till this day, a member of the Italian Club of Tampa. Mr. Capitano served as Vice-President of the Italian Club and helped in many various ways save the integrity of the Italian Club's Membership and its building. He also was a Charter Member of the Krewe of Sant' Yago. Mr. Capitano was a past director of the Ybor Chamber of Commerce, and served as president of the Boys Clubs of Greater Tampa, in 1979. He received the Silver Keystone, which was presented to him by the Boys Clubs of America for his outstanding and extraordinary service to youth. He was quoted at the time, saying, "Everyone should contribute something to the community." The Nick Capitano Boys and Girls Club standing in Ybor City, is a testimony to his energy placed with countless hours of his time, so that a few youngsters don't have to have it so tough. Perhaps it is best said in the middle stanza of a poem which was written for him by a young Boys Club Member:

Steps he treads point the way

To a happier City and a better day.

His example is very good to follow_____

Enjoying today while looking to tomorrow.

Mr. Capitano is survived by his loving children, son, Joseph Capitano, Sr., and his wife, Gilda, and daughter, Rose Lee Garcia. Nine grandchildren, Nick Capitano II, Celeste C. Lazzara (Santo), Joseph Capitano, Jr., Frank David Capitano (Christina), Maria Elena C. Pardo (Vincent) Angela Nicole C. Nassif (Matthew), Al Garcia, III (Reina), Richard Garcia (Stamie), and Nick Garcia (Jennifer); 16 great-grandchildren; his sisters, Theresa Coniglio and Angie Whidden. Mr. Capitano's family is forever grateful to his caretakers: Phebe White and Rosa Montalvo, for their loving care and compassion over the past three and one-half years. May God reward you both for your dedication and kindness!

Funeral Information

Visitation will be at St. Lawrence Catholic Church, Tampa, 10:00a.m - 12Noon on Tuesday, May 27, 2014. A Funeral Catholic Mass will be celebrated for the repose of his soul at 12:15 p.m. Celebrants: Monsignor Laurence Higgins, Fr. Richard Hermes, S. J., Fr. Paul Goudreau, Fr. Hugh Chikawe. Vocalist: Damon Lazzara, Ph. D. Pallbearers are his grandsons: Nick, Joseph, Jr., Frank David Capitano; Al, Richard Nick Garcia; Santo Lazzara, Vincent Pardo Matthew Nassif. Honorary Pallbearers: Al Dato, Morris, Dennis Ronnie Fonte, Joe Garcia, Richard Gibson, Sal Guagliardo, Dick Stowers, Riley Hogan, Sam Lazzara, Dr. Anthony Lazzara, Honorable Judge Richard Lazzara, Michael Lazzara, Dr. Robert Lazzara, John Myers, Jr., Frank Ortega, Joseph R. Rowe, Honorable Judge E.J. Salcines, Frank J. Vacanti, Sam Vento, Danny Whidden.