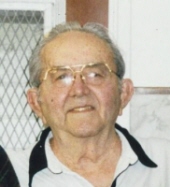 Obituary for Nick Arcuri
Nick Arcuri

ARCURI, Nick, 87, of Brandon, passed away on Wednesday, February 1, 2012. A native and life-long resident of the Tampa area, he was a US Navy WW II veteran and he retired as a Hillsborough County Sheriff Deputy. He was of the Catholic faith, a Charter member for 51 years of MacFarlane Park Optimist Club, Sons of Italy Lodge #1251, Travelers Protective Association and American Legion Post #248. He is survived by his wife of 58 years, Lillian; son, Nick (Kathleen) Arcuri, Jr., Sparta, NJ; daughter, Terri (Ed) Ciesla, Brandon; brother, Steve (Connie) Arcuri, Tampa; brother-in-law, Joseph (Gean) Puleo, Tampa and six grandchildren, Lindsey, Eddie and Marissa Ciesla, Madison, Courtney and Jordan Arcuri.

Funeral Information

Funeral services will be held 11:00 A.M. Monday, February 6, 2012, at Southern Funeral Care, 10510 Riverview Drive, Riverview, with the family receiving friends one hour prior to services. Interment will follow at Florida National Cemetery, Bushnell, FL.