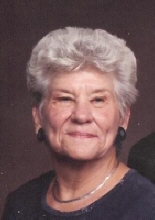 Obituary for Mrs. Peggy M. Osborn
Peggy M. (Price) Osborn

OSBORN, Peggy M. (Price), passed away Friday, October 9, 2009. Peggy was born July 13, 1924, in Oshkosh, Wis. Her family moved to Sault St. Marie, Mich., in 1926. She had lived in Brandon since 1953. Peggy was predeceased by her brother, Jim Price. She is survived by Rodney, her husband of 60 years; son, Tim Osborn and his wife, Charlene, and their twins, Luke and Shannon Rose of Lafayette, La.; son, James and wife, Annette, of Seffner, Fla.; brother, Patrick Price; sisters, Jean Welder and husband, Frank and Lois Laundy and husband, Frank; five nieces and five nephews; and sister-in-law, Sandra Price. Peggy earned her Bachelor of Science degree from Central Michigan University and was a high school English teacher English for 43 years. Most of her years as an educator were spent at Brandon High School. She was one of the original parishioners of Nativity Catholic Church, and a charter member of the Brandon Junior Women's Club and the Women's Service League.

Funeral Information

A Memorial Mass will be held at Nativity Catholic Church on Friday, October 16, 2009 at 10:30 a.m. A reception will follow 5-8 p.m., at Brandon High School Cafeteria.