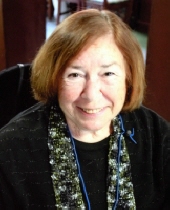 Obituary for Minnette Webster
Minnette Webster

WEBSTER, Minnette, of Valrico, drew her last line on her artwork on Monday, April 14, 2014. Minnette was born on October 18, l937 in Danbury, CT to Martha and Phillip Ross. She was preceded in death by her husband, William Webster and is survived by her children, Kimberly (John), Ross (Angie), Torrey (Lori) and Dawn (Patrick) and grandchildren, Nick, Kayla, Mandze, Brandi and Hollie. Death is not extinguishing the light but putting out the lamp because the dawn has come.

Funeral Information

Memorial services will be held 2:00 P.M. Saturday, April 19, 2014, at Southern Funeral Care, 10510 Riverview Drive, Riverview, with the family receiving friends one hour prior to services.