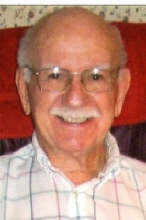 Obituary for Milton Wesley Caum
Milton Wesley Caum

CAUM, Milton Wesley ("Wes"), 85, passed away at home on Wednesday, June 15, 2011, into the arms of Jesus, surrounded by his large, loving family. He is survived by his wife, Norma Caum, three children and their spouses, Steven Caum (Lou Anna), Linda Norton (Robert), Michael Caum (Kathy), 16 grandchildren and 9 great-grandchildren. Wes was a member of Bell Shoals Baptist church since 1985, where he faithfully served as an usher and with the Meals on Wheels ministry. He was also a member of Local Union #123 and the Experimental Aircraft Association Chapter #175 where he functioned as a chapter consultant. A decorated World War II veteran, Army 82nd Airborne, Sgt. Caum was a Bronze Star and Purple Heart recipient serving in both the Pacific and European theaters. Wes leaves a legacy of loving, sacrificial service to family, friends and those in need. He is best known as a man of integrity who has left a deep imprint on those closest to him.

Funeral Information

Graveside Services will be held 12:30p.m., Friday, June 17, 2011 at Florida National Cemetery, Bushnell. A Celebration of Life service will be held 11:00 A.M. Saturday, June 18, 2011, in the chapel at Bell Shoals Baptist Church with the family receiving friends one hour prior to services. A reception will immediately follow.