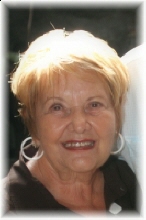 Obituary for Millicent "Millie" Louise McLean
Millicent "Millie" Louise McLean

McLEAN, Millicent Louise "Millie", 73, of Valrico, passed away on Sunday, November 7, 2010. Born to Charles W. and Alice L. Swindell on February 2, 1937 in Bel Air, MD, Millie grew up in Havre de Grace, MD. She is survived by her husband, Bob; daughters, Cindy (Ron) English and Beth Anne (Scott) Bravis; grandson, Jake (Leah) English; granddaughter, Sarah Beth (Luke) Satmary; great-grandson, Trenton English; brother, Wilbur (Joan) Swindell and numerous nephews and nieces. She was preceded in death by her brother, Richard Swindell and by her parents. Millie was possessed of a wonderful soprano voice and sang in choirs and soloed in churches in Maryland and Hillsborough County. Her family was the center of her life and she had many dear friends by whom she was loved, and loved in return. The family wishes to express our heartfelt gratitude to the many friends who have shown Christian concern during Millie's recent illness.

Funeral Information

Funeral services will be held 10:00 A.M. Thursday, November 11, 2010, at the First Baptist Church of Dover, 3223 N. Gallagher Rd., Dover. The family will receive friends Wednesday evening, November 10, 2010, from 6:00 until 8:00 P.M. at Southern Funeral Care, 10510 Riverview Drive, Riverview.