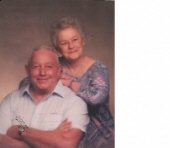 Obituary for Mildred "Mickey" Pillion Lentz
Mildred "Mickey" R. Pillion Lentz

LENTZ, Mildred "Mickey" R. Pillion, 77 of Brandon, joined our dad on Tuesday, December 7, 2010, after a 4 year battle with esophageal cancer. Born May 8, 1933 in Springfield, OH, to the late Garrett Pillion and Edith Freshour Foss, she resided in the same home in Brandon for over 55 years. A 1950 graduate of Mountain Mission School, Grundy, VA., she was a retired nurse, USF SeniorNet Coach and a charter member of the Babes in Brandonland Red Hat Society. Preceded in death by her husband in 2006, Carl L. Lentz, she is survived by her sister, Beulah Reid of Symsonia, KY; her children: Beckey (Richard) LeVaugh of Merritt Island, FL, Karen (Jerry) Rodriguez of Brandon, Craig (Deborah) of Dade City, Richard of Brandon; and special daughter Carol (Geoff) McLeod; 9 grandchildren; 19 great-grandchildren and 2 great-great-grandchildren along with numerous special friends.

Funeral Information

The family will receive friends from 10:00 until 11:00 A.M. on Saturday, December 18, 2010, with a brief Celebration of Life service at 11:00 A.M. at Southern Funeral Care, 10510 Riverview Drive, Riverview. A reception will follow at the family home.