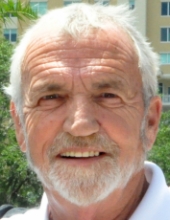 Obituary for Michael J. Kidd
Michael Joseph Kidd passed away on April 16, 2023. Mike and his wife Leslie (nee Wallace) met in Riverview while he was stationed at MacDill AFB and are proud parents to six wonderful Kidds: David Gunn (deceased), Sheena (Scott) Woolley, Treena Gibbons, Merideth (Patrick) Bond, Logan (Kyle) Richards and Michael (Kelly) Kidd. He liked nothing better than family get-togethers with them and the 12 remarkable GrandKidds that filled his life with joy: Robby (Kyrstin) Woolley, Kailey Gibbons, Dade Bond, Ryan Woolley, Sevana, Madison & Kara Gunn, Hanna & Daniel Richards, Benjamin & Oliver Farias and Amelia Kidd.

The beloved husband, father, grandfather, brother and uncle was born in St. Louis, MO in 1945 to James Logan Kidd and Leona Gremminger and was brother to Ann Celeste (Dan Burke) and Margaret Marie (Rudy Goodeus, both deceased).

Mike believed in a job well done and carried that credo throughout his career. His 24 years in the United States Air Force was followed by jobs in the trucking industry and real estate appraisal. He gave his all to whatever he took on and was beloved by family and friends alike.

Please leave condolences on this memorial page to share with his family. Services will be private.

Read More