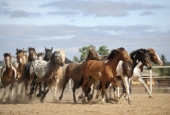 Obituary for Melanie (Wahrheit) McCarty
Melanie (Wahrheit) McCarty

¬McCARTY, Melanie (Wahrheit) was born May 6, 1951, in Wantagh, New York. She was the daughter of Edward and Monica (Kennedy) Wahrheit. She has two brothers, Thomas and Matthew. Melanie moved to Florida during grade school and graduated in 1969 from Largo High School, Largo, Florida. She attended the University of Florida and the Potomac Horse Center in Maryland. She wed Michael (Mic) McCarty in November 1983 and has two sons, Sean and Patrick. She has been the owner/operator of Flying Horse Farm in Valrico, Florida, since 1995. She was generous and kind to everyone and had a special affinity for animals. She competed at the Sumter Equestrian Center, Fanin Hill, Black Dog, and Galaxy Farms in recent years. She was a member of the Florida Horse Trial Association. Melanie won numerous ribbons and points in stadium jumping, dressage, and cross-country jumping with her last horse, The Flying Dutchman. Melanie was diagnosed with cancer in January 2014 and continued to work, ride and compete up until the disease took her away from her loving family on October 12, 2015. Mic, Patrick, Sean, Dani, the rest of Melanie's family and many friends will sorely miss her.

Funeral Information

There will be a funeral Mass at St. Stephen Catholic Church, Valrico on Saturday, October 17, 2015, at 12:00 P.M.