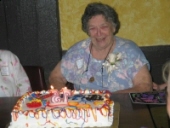 Obituary for Mary Patricia Underberg
Mary Patricia Underberg

UNDERBERG, Mary Patricia, 79, of Brandon, passed away on Thursday, March 18, 2010. A native of Chicago, IL, she had resided here since 1950. She was a member of Nativity Catholic Church, Brandon and was Past Matron of the Order of the Eastern Star, Mystic Ch. #110; Past High Priestess of Mecca Court, Ladies Oriental Shrine and Past President of Brandon Hospital Auxiliary. She was preceded in death by her husband, Donald E. Underberg and granddaughter, Brandi Newman and is survived by her son, Paul Underberg, Tampa; 3 daughters, Dana Underberg, Tampa, Lori Underberg, Seffner and Lisa Kinter, Enterprise, AL; niece, Patricia Faje, Downers Grove, IL and other nieces and nephew; 8 grandchildren, Kala Harn, Justin Pate, Brandon Ramos, James Underberg-Kirkland, Samantha Kinter, Adam Kinter, Paula Underberg and Tarrah Underberg and 3 great-grandchildren, Madison Morales, Billy Belles and Emily Holland.

Funeral Information

Memorial services will be conducted 11:00 A.M. Monday, March 22, 2010, at Southern Funeral Care, 10510 Riverview Dr., Riverview, with the family receiving friends one hour prior to services.
Read More