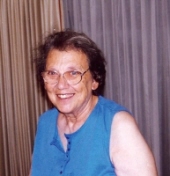 Obituary for Mary P. Welch
Mary P. Welch

WELCH, Mary Passamano, 85, of Seffner, formerly of West Hartford, CT, passed away on Tuesday, November 25, 2008. The daughter of Frank and Josephine Passamano, she was born in New Britain, CT. Mrs. Welch graduated with a Bachelor's and Master's degree from Central Connecticut State College (now Central Connecticut State University) and was a teacher for many years at Naylor Elementary School in Hartford, CT, she was preceded in death by her husband, Harold B. Welch, Jr., sister, Angela Bonola and brother, Louis Passamano. She is survived by her three children, Mary Welch McGill, Atlanta, GA; Dr. Harold Welch, Seffner and Frank Welch, Brandon; son-in-law, Ralph McGill, Jr. and daughters-in-law, Betsie Welch and Leah Welch; six grandchildren, Katie Welch, Grady Welch McGill, Courtney, Ben, Zachary and Colby Welch; two brothers, Salvatore Passamano, Hendersonville, NV and Russell J. Passamano, East Northport, NY; 18 nieces and nephews as well as several first and second cousins.

Funeral Information

A Funeral Mass will be celebrated 10:00 A.M. Saturday, December 6, 2008, at St. Ann Catholic Church, New Britain, CT. Everyone is asked to meet at the funeral home at 9:00 A.M. on Saturday for the procession to the church. Interment will follow at St. Mary Cemetery, New Britain, CT. The family will receive friends Friday, December 5, 2008, from 4:00 P.M. until 7:00 P.M. at New Britain Memorial-Sagarino Funeral Home, 444 Farmington Ave., New Britain, CT. A Memorial Mass will be conducted 1:00 P.M. Saturday, December 20, 2008, at St. Francis of Assisi Catholic Church, Seffner, FL.