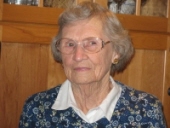 Obituary for Mary B. Emnett
Mary B. Emnett

EMNETT, Mary B., 99, of Brandon, passed away on Thursday, September 18, 2008. A native of Lewis Co., KY, she had resided in the Tampa area since 1950, coming from Raleigh, N.C. She was a member of Christ the King Catholic Church, Tampa Orchid Society, Catholic Women's Society and a current member of Nativity Catholic Church. She was preceded in death by her husband, C.J. Emnett and is survived by her sons and daughters-in-law, Joseph and Jean Emnett, Riverview and C. Edward and Allis Emnett, Spring Hill; daughter, Patricia E. Crumbley, Brandon; 10 grandchildren; 5 great-grandchildren and 1 great-great-grandson.

Funeral Information

A Funeral Mass will be celebrated 10:30 A.M. Monday, September 22, 2008, in the chapel at Nativity Catholic Church, Brandon. Interment will follow at Garden of Memories Cemetery, Tampa. The family will receive friends Sunday afternoon from 2:30 until 4:00 P.M. at Southern Funeral Care, 10510 Riverview Dr., Riverview.